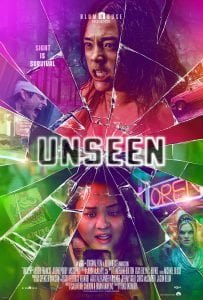 Two women form an unlikely connection when Sam, a gas station clerk, receives a misdialed call from Emily, who is running from her murderous ex-boyfriend in the woods. Having lost her glasses in her escape, Emily must rely on Sam's eyes using the video call in order to survive.
This is part of Epix's and Blumhouse's eight TV movie deal.
The feature film directorial debut of Yoko Okumura (50 States of Fright, The Bold Type, Good Trouble).
Described as a "survival thriller."
Paramount Home Entertainment released Unseen on Digital and VOD on March 7, 2023.
Unseen premiered on MGM+ on May 19, 2023.
Director: Yoko Okumura