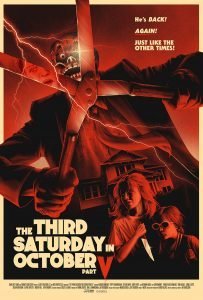 Unstoppable killer Jakkariah "Jack" Harding is back in town after seven years, as he stalks and kills at random before chancing upon a football watch party. The game is, of course, between longstanding rivals the Alabama-Mobile Seahawks and Tennessee A&M Commonwealth. Chaos ensues, in increasingly ridiculous fashion, with inventive murders and multiple love triangles. Hearts are broken and appendages are torn.
Dark Sky Films distributes in the US.
Filmed in Alabama.
This was filmed alongside The Third Saturday in October Part I. The concept is "what if a lost horror franchise made during the peak of the slasher genre was unearthed today, but only two of the films could be restored?" Filmmaker Jay Burleson reportedly wanted to "recreate the by-gone video store days when horror fans might have had to watch a franchise out of order." It's said that the filmmakers intended for viewers to start with Part V and then go back to Part I.
Written/directed by Jay Burleson (The Nobodies).
Dark Sky Films released The Third Saturday in October Part V on VOD and Digital Platforms on May 5, 2023.
Director: Jay Burleson