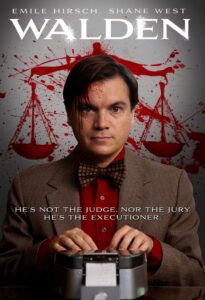 Walden Dean is a stenographer, whose mind witnessed all types of injustices in the courtroom. After discovering he has a terminal illness, repressed anger deep within him surfaces – taking justice into his own hands in the most gruesome ways imaginable.
Uncork'd Entertainment distributes in the US.
Filmed in Atlanta, Georgia.
Written/directed by Mick Davis (Father Christmas is Back).
Uncork'd Entertainment released Walden in Select Theaters on November 10, 2023.
Uncork'd Entertainment releases Walden on Digital and VOD on December 12, 2023.
Director: Mick Davis