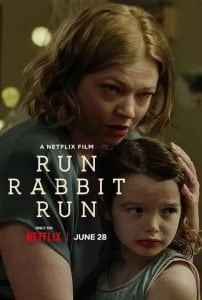 Sarah Snook plays a fertility doctor who believes firmly in life and death, but after noticing the strange behavior of her young daughter, must challenge her own values and confront a ghost from her past.
Netflix will debut the movie via their streaming service.
Filmed in Australia.
This marks the feature film directorial debut of Daina Reid, who until now has worked on shows such as The Handmaid's Tale, The Outsider, Upload, and Space Force.
This is an Australian horror movie.
Run Rabbit Run premiered on Netflix on June 28, 2023.
Director: Daina Reid