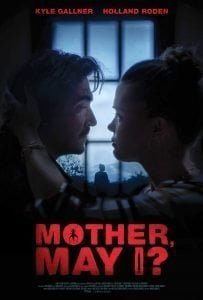 Emmett wants to clean and flip his recently deceased mother's house: get in, get out, and avoid any trauma still lingering from when she abandoned him as a young child. Anya, his fiancé, see's this as an opportunity to finally force Emmett to deal with his trauma because she believes it is preventing him from being the partner she needs. So she convinces him to take mushrooms to get him to let go. But something strange happens while they're tripping: she starts behaving like his mother. The next morning he wakes up sober, but she still won't drop the act… Anya loves playing games – is this her taking it too far? Or did his mother's spirit somehow possess her?
Dark Sky Films distributes in the US.
Described as a "psychological thriller about who we think we are and who we pretend to be."
Dark Sky Films released Mother, May I? in theaters and on VOD on July 21, 2023.
Director: Laurence Vannicelli