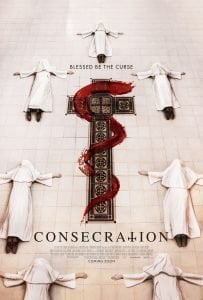 After the suspicious death of her brother, a priest, Grace (Jena Malone) goes to the Mount Saviour Convent in Scotland to find out what really happened. Once there, she uncovers murder, sacrilege, and a disturbing truth about her own past.
IFC Midnight and Shudder distribute in the US. IFC will give the film a limited theatrical release, followed by a Shudder debut later in the year.
Director Christpher Smith described the movie as "a film about the nature of religion and how defining one thing as divine creates a false opposite that is heretical." Adding… "This film is an opportunity to take the audience on a thrilling journey into the dark unknown, and I want to really push that to the limit both in terms of scares and the psychology of the main characters. I want Consecration to be the scariest yet."
Directed by Christopher Smith (Creep, Triangle, Black Death, Get Santa, The Banishing).
Described as a supernatural thriller.
IFC Midnight and Shudder released Consecration in theaters on February 10, 2023.
IFC Midnight and Shudder released Consecration on VOD on March 3, 2023.
Consecration premiered on Shudder on May 19, 2023.
Director: Christopher Smith