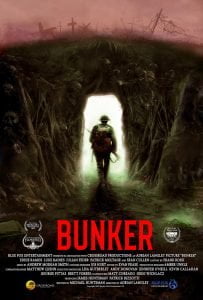 Trapped in a bunker during World War I, a group of soldiers are faced with an ungodly presence that slowly turns them against each other. As paranoia and fear grow between them, the men experience the true hell of war.
Blue Fox Entertainment distributes in the US.
Filmed in New York.
Directed by Adrian Langley (Butchers).
Also known as The Fallen.
Originally set to be released in theaters on March 10, 2023.
Blue Fox Entertainment released Bunker in select theaters on February 24, 2023.
Director: Adrian Langley