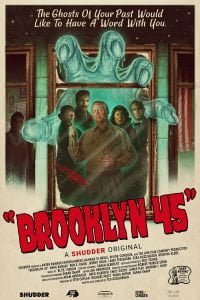 Friday, December 27, 1945. Five military veterans gather in the ornate parlour of a Brooklyn brownstone. Best friends since childhood, they've reunited to support their troubled host – but when his invitation for cocktails turns into an impromptu séance, the metaphoric ghosts of their past become all-too-literal. Trapped in their host's lounge, the Greatest Generation now finds themselves put to one final test…with their only route to freedom being more bloodshed.
Will debut on Shudder's streaming service.
Ted Geoghegan worked on the script with his late father, who was a disabled Air Force Veteran-turned-history teacher. Ted was quoted saying: "Since losing my dad, I've been obsessed with bringing the powerful, timely script we collaborated on to the screen. A story of the ghosts, rage, and toxicity that follow all human conflict, the heart of Brooklyn 45 beats just as poignantly today as it did when the film was set, 76 long years ago."
Written/directed by Ted Geoghegan (We Are Still Here, Mohawk).
Brooklyn 45 premiered on Shudder and AMC+ on June 9, 2023.
Director: Ted Geoghegan