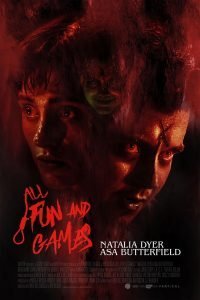 A Russo Brothers' ABGO production starring Natalia Dyer and Asa Butterfield, All Fun and Games explores the elements of cruelty inherent in children's games – Flashlight Tag, Hangman, Hide & Seek – and what happens when the games go too far. When a group of teens find a cursed knife in the woods, they unleash a malevolent demon that will not rest until it's claimed all of their lives and souls in a terrifying deathmatch.
Vertical Entertainment distributes in the US.
The feature film directorial debut of Eren Celeboglu and Ari Costa.
Described as "It meets The Grudge."
Vertical Entertainment released All Fun and Games in theaters and on VOD on September 1, 2023.
Directors: Eren Celeboglu, Ari Costa