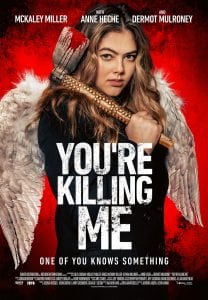 'You're Killing Me' follows Eden, who goes to a coveted 'Heaven and Hell' party, hoping to get a letter of recommendation to an elite university from the wealthy parents of her classmate, but the party quickly turns into a fight for her life.
Quiver Distribution distributes in the US.
This is reportedly one of the last films Anne Heche worked on before her passing in August of 2022.
Co-directed by Jerren Lauder (Stay Out of the F**king Attic, The Inhabitant).
Quiver Distribution released You're Killing Me in select theaters and on Digital/VOD on April 7, 2023.
Directors: Beth Hanna, Jerren Lauder